Types Of Leggings And Where To Use Them.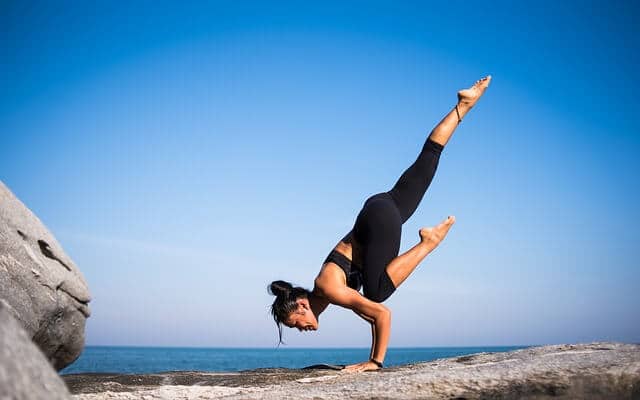 Oh so many types of leggings!
We all know what leggings are, and most of us would have worn different types of leggings at some point in our lives. In fact, I am willing to bet that many of us wear them on a daily basis. Why? Because leggings are not only comfortable, but they look great and allow us to move our bodies. But did you know there are different types of leggings? We are going to take a look at these types of leggings and where to use them.
From the simple gym leggings to the under-the-dress to keep warm style, leggings make their way from the bedroom, to the gym, on nights out and back again. Why? Because if there's any event, there is definitely a pair of leggings for that particular event.
What are Leggings?
Just in case you missed the memo, we want to make sure you know exactly what we are talking about. To put simply, leggings are skin-fitted legwear that are known for their soft fit and weightlessness. Ah, so light. Unlike other pants, such as jeans or trousers, they provide much more freedom of movement. For example, should you want to try the splits in them, go for it! The leggings material is what aids this movement and makes them so comfortable.
It is for this reason that leggings are often associated with exercise, as this is one of the most notable times we need complete movement of our body. But leggings come in a variety of forms from sexy workout leggings to sensual leggings and more.
There are so many different types of leggings on the market for you to explore… and a few options that will get you thinking…
History of Leggings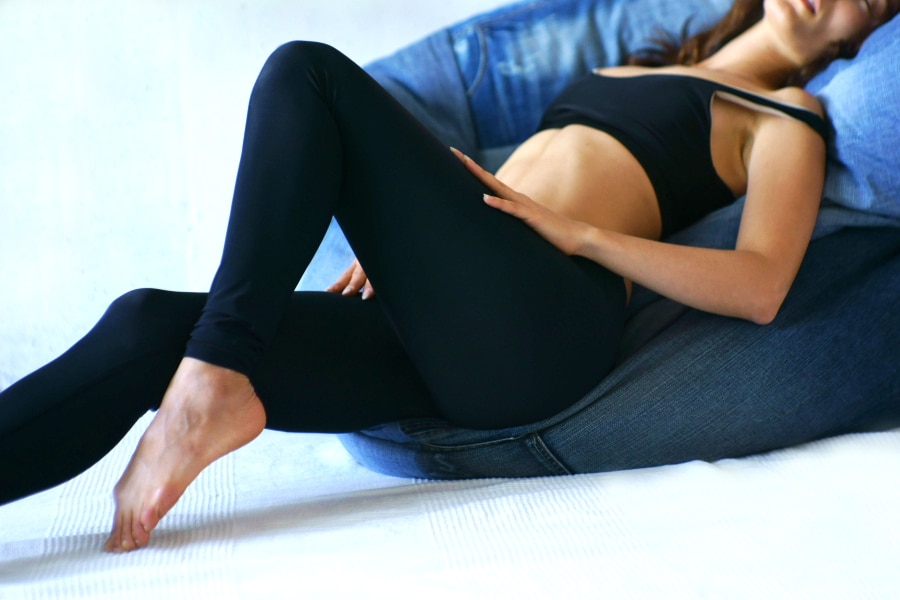 So when did leggings come about? It's no secret that assless yoga pants haven't exactly been around for centuries, but other types of leggings certainly have.
In history, they were predominantly worn by men to protect them when riding horses. Makes sense, right? We still wear them for the same reason today! By the 1960s they entered the fashion world. By 1970s they were worn by women everywhere. And they still are. Unlike other fashion trends that have come and gone, leggings are here to stay. And thank goodness, as they are the most comfortable option out there.
But that doesn't mean they haven't changed over the years.
The Age Old Debate
There's one little question we have to address before delving into this article: can leggings be worn as pants?
Yes, yes, yes and a little more yes. And if you answered no to this, this article isn't for you.
Once upon a time leggings were perceived as 'sloppy' and not for regular wear outside of going to the gym. Just as times have changed so has the fashion and there are so many different types of leggings available now. And these sexy tight leggings are most certainly made to be worn instead of pants for everyday wear.
After all, if you've got it, flaunt it!
Athletic Compression Leggings
When it comes to exercise, leggings should be your go to. Athletic leggings are usually made from a nylon-lycra (90% nylon and 10% lycra) blend that breathes well and allows full mobility. While they may not to top choice for sexiest leggings on the market, you certainly can find sexy workout leggings.
Leggings are not only nice and comfortable, giving you full range of movement so those squats can get even lower than before, but they are completely functional too.
Did you know, leggings help compress the body and increase blood flow to the muscles? Amazing! This not only helps prevent muscle soreness (woo, this is a win after an intense gym workout), but they also increase your power. Think of them like superhero pants, you can run faster and jump higher! The leggings material has so many benefits to help you out.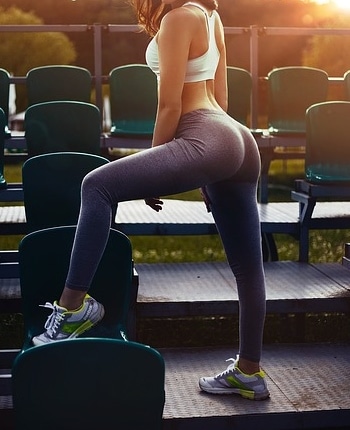 What else can these athletic compression leggings do?
Increase flexibility: bend lower, squat deeper, reach further. Your leggings will support all these moves with that added boost you need.
Stay dry: the nylon in these leggings makes sure your sweat dries even faster to keep you from feeling wet while working out.
Improved performance: as we mentioned, a pair of these will help you jump even higher than before!
All about style: we can't forget looks! There are so many designs out there to choose from, you can find one that reflects your personality. Let's face it, looking good while exercising is a huge motivation.
So, if you are currently exercising and don't own a pair of leggings, that's a bandwagon you need to hop on as soon as possible. Who knows, you may find tomorrow you are jumping even higher. Plus, there are so many cool designs to choose from, you'll have lots of fun working out your style in the process.
Yoga Tights
Into Yoga? There's leggings for that! When we say Yoga leggings, I am sure your mind jumps to PG rated, comfortable leggings. And with good reason! Yoga leggings are designed to help you stretch your body even further – just like the athletic type above.
But, I am here to tell you there are a few Yoga legging options out there you may not have considered before: crotchless yoga pants and assless yoga pants.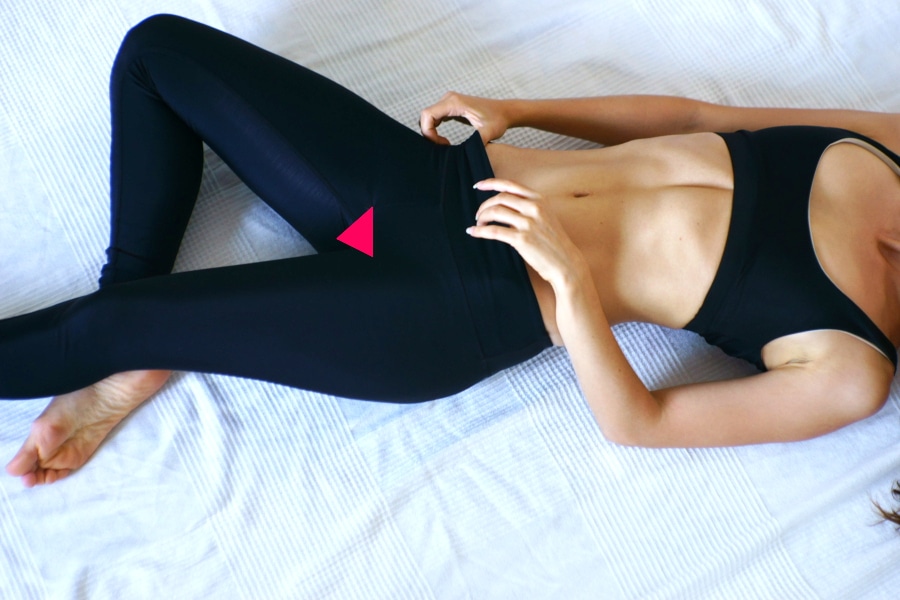 Why, you might ask? Why not is the question you should really be asking. Let's take a look at them.
Crotchless yoga pants: working out isn't just for the gym. Take your next workout to the bedroom with these crotchless style pants and have a little fun with it. Enjoy all the benefits that come from stretchy yoga pants, and move like you have never moved before in the bedroom. With the easy access, you don't even need to take the pants off. These sensual leggings are a great turn on.
Another benefit? You don't have to get cold in dead winter. Stay dressed and have some fun.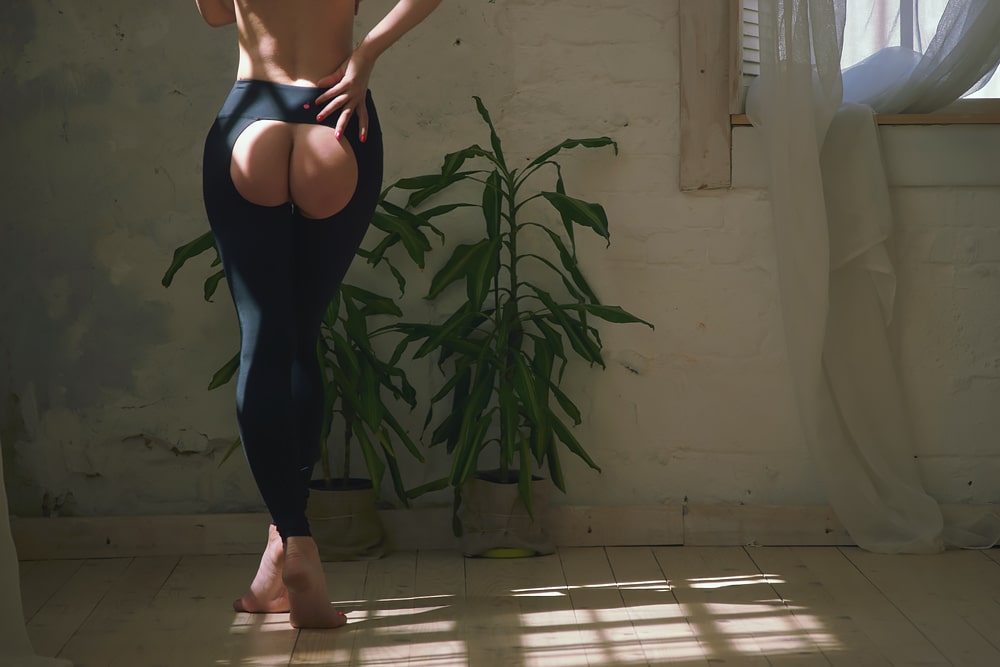 Assless yoga pants: much the same, these pants are designed for the bedroom. It really depends on what you like to get up to in the bedroom. These hot sexy leggings make quite the statement, and are sure to show your other half exactly what you are up for.
Pop either of these on under a dress during the cooler months and enjoy the breeze. Oh, and teasing your partner while you are out and about.
Leather Leggings
See the theme we have going here? If looking for the sexiest leggings, this is a great place to start. They are the perfect way to stand out and show off those amazing legs of yours. The bonus of leather leggings is that they actually look like jeans (so the debate of wearing them as pants is non existent!).
They are also nice and warm and will protect you from the elements while looking fab. As you likely already know, leather is made from animal hide that has been dehydrated, tanned and processed, creating a barrier of insulation for your legs in cold weather. Even better, they actually repel odour! If you opt for the genuine variety, leather wicks moisture away from your body, which keeps you dry and prevents any bad odours from arising.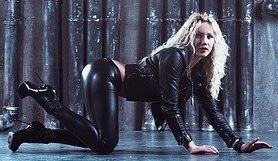 Leather is the perfect material for sexy tight leggings that can work with anything. Whether you are throwing a jumper on top during winter, or wearing them under a dress, they really can pack quite the statement. Plus, you can dress them up for down depending on the occasion. There really are no limits.
Jeggings
They're not quite jeans and they're not quite leggings, but they are definitely worth mentioning! Jeggings are the cross between jeans and leggings. So if you love the look of jeans, but the comfort of leggings, this is for you.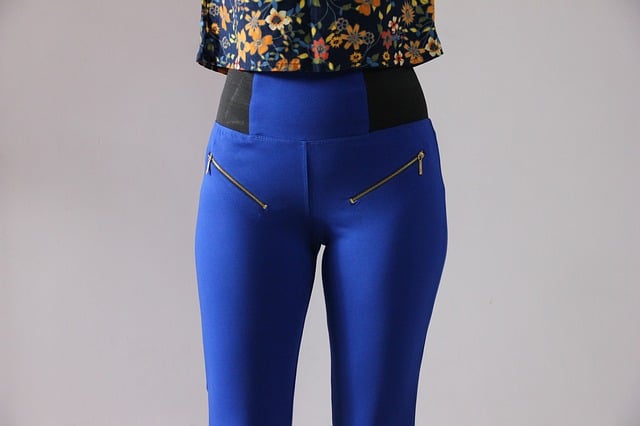 Jeggings are sexy tight leggings that can be worn every day. Once again, you can dress them up for down depending on the occasion. They are another fashion statement that made its mark a few years back and is definitely here to stay for the long run. So embrace it!
Some people find jeans comfortable, but it's safe to say, I am not one of them! Jeggings on the other hand have all the benefits of jeans combined into hot sexy leggings. Don't hide it, flaunt it! These are a must-have in your closet. Plus, if you are a boot wearer, you will just fall in love. You can zip up practically any style boots over these bad boys and walk out the door in class each and every time.
To Wrap Things Up…
So there you have it – leggings come in a large variety of different types, all with different uses in mind. From working out at the gym, to working out in your bedroom, or simple day-to-day wear, there is a pair of leggings for that. And with so many designs on the market, you don't have to look hard to find a pair that suits your tastes.
Stock up on those leggings and make sure you have one for every occasion on the ready. Why shouldn't we always be comfortable while looking great?